Finding your way in Horde Camp at Pennsic

Welcome to Horde Camp! We have been camping on Horde Hill for lo these many years, and have developed and evolved some customs and traditions that you should be aware of to make your visit (or stay) with us a little more comfortable.
Khanna
This is the fence around HordeCamp. Sometimes it's pretty fancy, sometimes just a rope.
The Gate can be recognized by the black on red horse Khanna walls to either side and behind it. This is where you will find the:

Guard Shack
All Anda are expected to stand watches at the Guard Shack during Pennsic. It is manned 24 hours a day.
When you enter Horde Camp, you will be asked the name(s) of the persons you are visiting. They will be fetched, and they will sign you in (and out) of camp unless we are holding Open Camp, when this becomes unnecessary.
If you have a pass into Camp, you will not need to sign in and out.
"The Khan is OUT"

If you are there to see the Khan, look for the sign on the Guard Shack. It will tell you if the Khan is in camp and receiving visitors or not.



Message / announcements board

This is a bulletin board sort of thing at the Guard Shack that tells you what's going on, what's interesting , etc.



The two fire pits

Just past the Guard Shack will be two fire pits. Please pass -between- them on entering. This is a Mongol custom to purify visitors.

Banner Raising
The Horde Banner, with nine horsetails, can be seen from almost any point at Pennsic. It is at the very top of Horde Hill, on an extremely tall pole.
To one side of the Horde Banner will be a smaller flag emblazoned with a riderless horse. This commemorates our dead. If you knew one of the persons whose names are on the flag, you are welcome to leave a stone on the Obo (a stone cairn) beside or in front of it. Please do not touch this flag.
The main fire pit, home of the Eternal Pot of War Coffee.






Drink at your own risk.
Bread and Salt
If you are offered Bread and Salt by the Dark Horde, it means that we will not kill you for three days.
The High Rent District: is at the very top of Horde Hill. This is where the Banner flies, and where Khan's Court is held. It is the heart of Horde Camp.
Landmarks you will see there:
Svea's Pavilion
Cian and Kharmin's tents
Eric the Dane's Yurtel 6
Daishi's Home of the

Saki Party
Mikhail the Armourer
Whitewolf and Drynnith the Klid
Wolfram's Pavilion, Workshop & Studio
Bogdan and Rhianwen's Palace of Decadence
Rocco and Kristiana's pavilion
Anarchan's tent
Mediene and Aelfwyne's yurts
Gurin's Giant Cloud Tent
Hasan's yurt
Jean-Paul's pavilion
The Swimming Pool
Twit's Tower
The Slums:
Landmarks you will see there:
Cip's Den of Iniquity
Todric's Yurt
Chimbai and Chon's Yurt
Gaffer's Baby Yurt
Irina and John's yurt and kitchen
Kevin and Kiegan's tent and kitchen
Morgana and Hugin are close, too.
Demonslayer and Brigit
The Tree of Shade





Over Cip's Table is the venerable Tree of Shade, decorated with many Interesting Things.
Cip's Table





Cip's Table is a shrine to the Ghods of Brew. It is the gathering place in the Slums. Drink if invited, ask what it is first!
Cipness


If you don't know, you don't need to know .......
The Ghetto: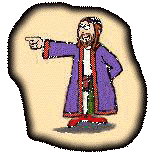 Landmarks you will see there:
Mordechai's yurt
Ioseph and Cherie's tent
Lilibeta's tent
Ardjukk's tent
Bob the Tree



The Ghetto's Tree is a new addition to Horde Camp. It's decorations are still evolving.
The Eruv: around the Ghetto is a second khanna, but this has a religious purpose. It is called an "eruv," and establishes a ritual space for Orthodox Jews.
Mordechai the Baker's oven





Home-baked bread and bagels!
The Back-of-the-Hill
Nap Zone
Showers and sink (with running hot water!)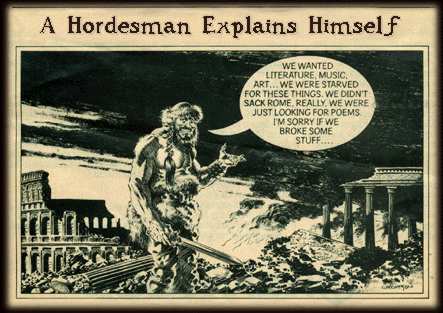 This page brought to you by the Mongolian Board of Tourism, promoting peaceful
co-existence within the Great Dark Horde Co-Prosperity Sphere.





Go back to the
Horde Page!