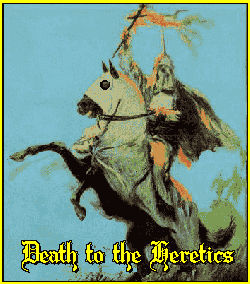 RELIGIOUS DISCRIMINATION IN THE SCA INC.
Background: Lady Ronna is a member of the SCA who, along with her chosen fighter, achieved the office of successor to the Prince and Princess of the Arizona group of the SCA Inc.
Lady Ronna does not and will not swear fealty to the Crown.
This caused a furor with the then Crown ...... much of which was apparently based on a personal dislike of Ronna and a neurotic need for fealty oaths as a means of controlling everyone around them.
Our story opens with Ronna's letter to the governing body of the SCA Inc, the Board of Directors (BOD):


Dear SCA Board Members:

I understand that the Crown of Atenveldt and the Coronet of the Sun 
have asked you to hold an emergency Board meeting by conference call 
over the controversy in the Kingdom of Atenveldt arising from my 
inability to swear an oath of fealty to the Crown and Kingdom of 
Atenveldt. 

Her Grace Sedalia has told me our Crown wants you to sanction Their 
banishing me from the Royal Presence, because it would cause less harm 
to the Populace than an edict denying me the privilege of giving 
awards: and, our Coronet wants you to declare the October 1995 Solar 
Coronet List invalid, on the grounds that I, or His Excellency Danu 
and I, did something improper in entering the list without declaring 
my inability to swear fealty. 

I believe it is in the best interests of the SCA, the Kingdom of 
Atenveldt, and the Principality of the Sun for you to deny both 
requests, and respectfully ask you to do so. Instead, I ask that you 
uphold Her Grace Sedalias interpretation of the Governing and Policy 
Decision, that any SCA member who cannot give an oath of fealty be 
permitted in alternate form of oath. 

To now, many do not contend in lists, seek baronial thrones, or 
attempt to hold any office, because Atenveldt Law requires fealty; 
they cannot forswear their faith (i.e. Jewish, Islamic, and Jehovahs 
Witnesses, to name only a few) in favor of their recreation. Until 
recently, I faced the problem every time I wanted to contribute my 
energies in anything other than an informal venue. 

These posts can be opened to all members on an equal basis with a 
Governing and Policy Decision clarifying that :(1)  anyone who cannot 
swear fealty must be permitted an alternate oath; and (2)  no member 
may inquire into or use ones faith as a basis for determining whether 
one can contend in lists or hold any post or office. G&PD 6, 
particularly the last phrase, appears to mean this, but is unclear: 
nor shall any member discriminate against another upon grounds related 
to eithers system of belief. 

My husband, Master Petruccio, and I follow a faith that does not 
permit us to give an oath of fealty to the Crown and Kingdom of 
Atenveldt, or the Coronet and Principality of the Sun. Please bear 
with me as I explain only some of the strictures we observe: 

First, our faith governs all aspects of our lives, including our 
personal, business, and recreational pursuits. There are no 
distinctions between our mundane or real and SCA persons. The personae 
we present are the people we are: whatever oaths we give are binding 
on us in every aspect of our lives. We cannot carve out purposes or 
exceptions when we give an oath -- if we give it, we must stand by it 
in its entirety. This makes us extremely careful of the rare oaths we 
do give. 

Second, our deity is the only incorporeal, conceptual body to which we 
may give our oaths. We may give oaths to tangible sentient beings -- 
people -- but not to that which is not a conscious entity, such as the 
concepts of crown, kingdom, coronet, or principality.Third, and 
because of this governance, we cannot give oaths of fealty to groups 
of people that, largely, we have little if any deep personal knowledge 
of. By our faith, one pledging fealty quite literally says, I lay down 
my life for you. Using the word fealty requires us to take a personal 
stand and hand in the well-being, and conflicts, of the pledgee. 
Regrettably, fealty to varied, diverse and battling interests would 
doom one of our faith to being hopelessly mired in dispute, 
controversy, and out-and-out feuding. With such a drain on ones time 
and resources, however could one hope to pursue the gentler ideals of 
chivalry, honor and grace? 

In addition, such an oath permeates what others perceive as our 
mundane lives. Although an extreme example, it is very real to us that 
to honor the oath means we are duty-bound to try to pull a stuck 
pledgee out of a burning car, even to risking our lives. 

While these are not all the restraints we observe concerning oaths, or 
fealty, they are the paramount ones that prevent us from offering an 
oath that includes that particular word. We have similar constraints 
with homage and obey.'Consequently, neither Master Petruccio nor  I 
have ever given a fealty oath to the Crown or Kingdom of Atenveldt, or 
to the Coronet or Principality of the Sun. Not can we give an oath to 
give such an oath. And pretty much anyone who knows us knows it.We 
have, however, not let our inability to give an oath of fealty stint 
our service to the baronies, principalities and Kingdom of Atenveldt. 

We have held office; autocratted events (including Master Petruccio 
co-autocratting Estrella War two years in a row); participated in 
demos; encouraged new and sustaining membership; bought the materials 
for and built over 150 costumes for others; and otherwise have done 
whatever we could to support and promote the SCA, both locally and at 
events beyond our local group. Where one of us serves, the other 
supports that sevice. 

Which brings us to a history behind the current conflagration. In 
1992, Her Majesty Katerina was Katerina, Tanista of the Sun. I was 
then the Solar Regalia Officer. I came to that position under Their 
Excellencies Christopher and Katerinas predecessors, who understood my 
problem, and permitted me an oath of sevice so I could hold the 
office.

In the week following Sir Christophers win at Coronet List, 
then-Tanista Katerina telephoned me at home. She was concerned that I 
did not give fealty. I confirmed that my faith doesnt permit it, and 
explained most of the above problems to Her. She then told me that I 
would either swear fealty or relinquish the office. Corpora, Kingdom 
and Principality Law then permitted this, so I resigned before the 
Investiture. I relate this incident only to make clear that Her 
Majesty Katerina has known for years that I dont give an oath of 
fealty.

Since then, other Royalty have permitted me to give an oath of 
service rather than lose or quell my willingness to help. 

Then, sometime in the last year, Master Petruccio found himself in 
line for the Kingdom Heralds Office. Both Kingdom and Principality Law 
still required all officers to swear fealty, which, of course, he 
cannot. The problem prompted him to call Duchess Sedalia, the SCA 
Seneschal. Interpreting the Governing and Policy Decisions, She told 
him that no member of the SCA may be forced to give an oath of fealty, 
but must be permitted an alternate oath, i.e., that of sevice.

We come forward now to early this fall, when Viscount Danu asked to 
champion me for Crown Tournament. I knew that, as a Knight and former 
Prince of  the Sun, He gives fealty; I explained to Him I couldnt. Worried 
because Kingdom Law required me to do so, Master Petruccio spoke with 
Her Grace Sedalia. Her Grace said I had to be allowed an alternate 
oath. She also said for us not to worry about it until and unless His 
Excellency Danu won. 

On October 12, 1995, Viscount Danu delivered our letter of intent to 
Their Majesties, Mathghamhain and Katerina. Their Majesties told Him 
He was acceptable for Their list, but I was not. He asked Them why, 
and They ultimately said it resulted from the Newman situation that 
happened a couple of years ago.

I wrote Their Majesties for written details after I learned of this 
exchange. It sits where Her Majestys telephone message refusal 
left it: I didn't pursue it then, in part because Viscount Danu 
specifically asked both the Crown and the Coronet if  they had any 
difficulty with us participating in Coronet List. Both of them responded 
with No. 

Part of the reason Viscount Danu and I wanted to sit hat was that we 
hoped for the chance to bring back good humor and to inject the 
concept of fun back into things. We wanted to at least try. 

Before the Coronet List, Viscount Danu and I had several discussions 
about fealty. I am just as confident He didnt have a thought about it 
being a problem, as I am that I didnt; and from Her Graces assurances, 
we simply quit thinking about it. 

It was during the week following the list that I first talked with Her 
Grace Sedalia myself. I now had a responsibility to the people of the 
Principality, and I wanted to hear with my own ears that what Master 
Petruccio conveyed to us was true (I know doing that irritates him, 
but if I stop, I worry myself frazzled). If I had to step away from 
the Principality Throne because I cant give fealty, I wanted to do it 
right then, before anyone was hurt or harmed. 

And Her Grace assured me, again, that it was not a problem; that I 
must be permitted an alternate oath. 

She also asked us to wait to say anything about needing an alternate 
oath, until after She sent the Crowns and the Crown Seneschals 
reminder letters about the interpretation. She said Shed be doing that 
around the first week of December. But, She said, dont wait until the 
last week before Investiture to tell Them; They might not take kindly 
to such a surprise, and might think I was trying an end run around 
them. Well, that made perfect sense to me, though Id wanted to tell 
Them right then.

So we waited. I called Her Grace during the week of  December 10, 
on other matters. In our conversation, I asked Her if  Shed sent the 
reminders; She said She had (I dont recall now if She said Shed sent 
them November 28 or 29, but theyd gone out). She was surprised the 
Post returned the one to our Kingdom Seneschal for insufficient postage; 
all were the same weight and postage. But our  Crowns had not come 
back to Her, so She believed it would be okay now  for us to talk with 
our Crown about structuring an alternate oath. 

Viscount Danu talked with our Crown about it. When He was done, He 
told me it went well: They ultimately sounded like they had no problem 
with it, and we were to submit a proposed oath. 

I was shocked when, in the afternoon of Thursday, December 21, Danu 
called me and said Hed started getting calls from former sitting hats 
who were His fighting friends. The gist of it was our Crown called 
selected past Coronets and Crowns, telling Them I wouldnt swear 
fealty. Only one Ive talked to said They said anything about an 
alternate oath. 

Instead, the rumors were our Crown would decree our Level 1 
banishment; They would not let us sit court; They wouldnt let us give 
awards; and they wouldnt let us sign anything during our reign. 

Our Crown did not call or discuss it with me, or with Viscount Danu 
beyond Their conversation related above. To Her credit, Her Highness 
Brianna called me that evening. In our talk, I explained I was trying 
to work out wording for an alternate oath. She said She understood my 
reasons, that the Coronet was going to stay out of this conflict, and 
to ask our Kingdom Seneschal if I wanted to know what actions the 
Crown was contemplating. 

At Her Graces urging, I personally presented alternate forms of an 
investiture oath and oaths to peers, officers, and populace (copies 
are reproduced following this letter) to Their Majesties Mathghamhain 
and Katerina on December 27. 

Please note, the Consort only began giving an investiture oath with 
the changes in Corpora, Kingdom and Principality Law of the last few 
years. Those changes define the Crown and Coronet as the Sovereign and 
Consort acting together, or in concert. 

I am disheartened that my inability to swear fealty is the central 
issue in such a mess. I dont understand how that can be so well known, 
and by Her Majesty, and any could still believe Ive done anything 
dishonorable. We specifically gave our Crown and Coronet the 
opportunity to stop us from entering Coronet List, and They said they 
had no problems with it. 

Im having trouble grasping how I can act on the assurances, 
information, advice and recommendations of the SCA Seneschal, but be 
the object of Their Majesties and Their Highnesses requests before 
you.I dont see how banishing me from the Royal Presence, or not 
letting me fulfill the obligations of this position does the Populace 
any good. In my view, any upheaval over this will cause controversy 
and division among the Populace, particularly when they learn the root 
issue is one of religious faith. 

Viscount Danu and I have been cooperative and compliant with Her 
Graces and Their Majesties requests of us. We believe we should be 
permitted to fulfill the only obligation we assumed by swearing the 
Sword Oath at Coronet List: to rule to the best of our ability.

If any of you need to ask me any questions or clarify anything I am at 
you pleasure. Please call (phone number deleted). If I am not 
immediately available, Ill be happy to return your call. 

As ever, I remain in service to the Kingdom of Atenveldt, the 
Principality of the Sun, and faithful to the Dream. 

Ronna, Tanista of the Sun
mka: Ronna Hodges



---



     SCA Board of Directors Meeting Minutes July 22, 1995:

6.  Policy Ruling - "That should a person be unable to take an oath of 
fealty, whose exact language is prescribed in Kingdom Law, that might 
be required to participate in a particular capacity (such as a Kingdom 
Officer or in Crown Lists) for religious reasons, that person should 
not be barred from participation for exercising their religious 
freedom.  In such a case alternative wording, acceptable to the Crown 
as well as the individual involved, must be made available." 



---



 ..... now let's look at:

            -Lady Ronna's Alternative Oath-

This day do I swear my service, duty and loyalty to my Sovereign 
Lord and Lady, Their Majesties  _____________  and  _____________. 

I will in all ways serve, defend and protect Them, following Their 
commands faithfully  in Their Reign; and will guard, defend, and 
rigorously protect, against every creature and with all my power, 
the principles and ideals of Chivalry; the Honor and Rights of the 
Peers of Atenveldt, my peers, and all subjects of the Principality 
of the Sun; and this Coronet, my sacred trust,endeavoring ever to 
prove myself worthy of the noble title [Prince/ss] of the Sun. 

In swear this day that no person who will not guard, defend and 
protect the principles of Chivalry; nor the honor and rights of the 
subjects of the Solar Coronet, and in particular those priveledges 
ordained by statute and established by custom to be the exclusive 
perogatives of the Nobility; nor will swear or affirm by this solemn 
oath so to do, shall if suffer to hold this, the Solar Coronet, 
after me. 

Of this, my Oath, I reserve and save only my duty to that which I 
hold sacred and holy. 

So say I,  [name],  [Tanist/a] of the Sun, until the Crown shall 
pass from Their hands, the Coronet shall pass from my hands, or the 
world end. 

  -------------------------------------------------------

...why was the Crown not willing to entertain an oath that was, in
all ways save the actual use of the word "fealty," a fealty oath?
Were their actions re: Lady Ronna motivated by a concern for the
Kingdom, or personal, darker motives? Only they can answer that 
question.

...note that Viscount Sir Danu was persuaded to abdicate before his 
coronation, by the Chivalry of Atenveldt. This made the whole
uproar moot, realtive to Ronna, but .....



---



 ..... THEN the Crown passed THIS law ......



passed into Atenveldt Kingdom Law:  Dec 27 1995:



III. GREAT OFFICERS AND GENERAL OFFICES OF STATE

A.2.a. Be prepared to swear an Oath of Fealty to the Crown of Atenveldt and to 
the Kingdom, [add: If for religious reasons only, the officer cannot swear an 
Oath of Fealty and wishes to swear an Oath of Service instead, a declaration 
must be included in the letter of consideration for the office. The 
declaration must be submitted to each Crown Prince and Princess one week 
before their Coronation]                                                 

IV. LESSER OFFICERS AND OFFICES OF STATE

A.2.b. Be prepared to swear an Oath of Fealty to the Crown of Atenveldt and to 
the Kingdom, [add: If for religious reasons only, the officer cannot swear an 
Oath of Fealty and wishes to swear an Oath of Service instead, a declaration 
must be included in the letter of consideration for the office. The 
declaration must be submitted to each Crown Prince and Princess one week 
before their Coronation] 

IV. CROWN TOURNAMENT

A.10. To be willing to swear an oath of Fealty to the Crown of Atenveldt and 
to the Kingdom, should they win. [add: If for religious reasons only, a 
fighter or consort can not swear an oath of Fealty, they must submit in 
writing to the Crown and Kingdom Seneshal a declaration. This declaration must 
be received by the Crown and Kingdom Seneshal one week prior to the Crown 
Tournament. Should the fighter or consort making the declaration win the 
tournament, they will not be able to accept oaths of Fealty from, or give 
oaths of Fealty to, the Landed Royalty, the Peers, any officers, or the 
populace.] 

XI. SUCCESSION OF THE CROWN

D. The Crown shall call a Curia Regis should either the prospective Sovereign 
or Consort [add: 1.] fail to appear [add: at their own Coronation] if there is 
sufficient evidence to suggest that this failure was through personal 
malfeasance [add: or 2. if they refuse to swear an oath of Fealty at their own 
Coronation and a declaration was not recieved as stated in Section X/A/10. of 
this law.] 

E. Should the decision of the Crown at the Curia Regis be that the prospective 
Sovereign or consort failed [add: to appear at their Coronation] through 
personal malfeasance [add: or failed to meet the Fealty requirements as 
outlined in section X.A.10. of this law] then the prospective Sovereign and 
Consort shall be disqualified from attaining the Crown and their titles of 
Crown Prince and Crown Princess shall be [delete: removed] [add: forfeit.] 



---


 
     From CORPORA: (the basic governing document of the SCA Inc)



6. POLICY ON RELIGION (June 1980, revised July 1988)




(italics added)



Having no wish to recreate the religious conflicts of the period under
study, the Society for Creative Anachronism, Incorporated, shall neither
establish nor prohibit any system of belief among its members.  No one
shall perform any religious or magical ceremony at a Society event (or in
association with the name of the Society) in such a way as to imply that
the ceremony is authorized, sponsored, or promulgated by the Society or to
force anyone at a Society event, by direct or indirect pressure, to
observe or join the ceremony.  However, this provision is in no way
intended to discourage the study of historical belief systems and their
effects on the development of Western culture.
  Except as provided herein, neither the Society nor any member acting in its 
name or that of any of its parts shall interfere with any person's lawful 
ceremonies, nor shall any member discriminate against another upon 
grounds related to either's system of belief. 



---



.... do we have a case of religious discrimination here?

.... judge for yourself.

And now (May 20, 1996) the U.S. Supreme Court has decided -against- the
Colorado anti-gay rights law because it establishes a class of people and then
discriminates against them. Is that not what this law does?

---
OTHER REFERENCES YOU MIGHT FIND INTERESTING
---