---
THE FOREST OF DESPAIR, AND WHAT THEY FOUND THEREIN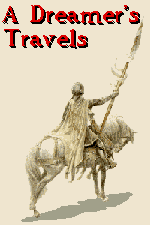 Princess Faith turned to Pilgrim, and said, "This is the Forest of Despair, wherein are many and divers adventures and perils, both to body and to soul. Be thou well upon thy guard!"
She had but spoken these words when, riding towards them from around a bend, came four riders.
All four rode fair horses, but three were dressed in the clothing of Mundania, and not in the garb of the land, while the fourth, a lady, wore the clothing of the Enchanted Lands and an enormous coronet.
One, the leading horseman, wore bluejeans and a t-shirt, and emblazoned thereon was the slogan "Knights do it with bigger sticks!" His strange garb was made even stranger by the fact that he also wore the white belt and golden chain of a Knight of this Faerieland, and he had spurs upon his tennis shoes.
His companions were dressed equally outlandishly. One wore a medallion of gold, with a green laurel wreath thereon, and wore bluejeans with holes at the knee. He carried a guitar, and wore a sweatshirt emblazoned with the words "Laurels Make It An Art!" The other bore a medallion of the Pelican in her piety upon his breast, and wore a business suit, and carried a large briefcase.
Each was followed by several other persons, who wore cast- offs from their Peers, or crude imitations of their garb, and great belts of divers colors, that hung down clear to their horse's feet, and dragged in the dust of the road.
Princess Prudence spoke, and said, "Pilgrim, beware these riders, for he that wears the Knight's Chain is the Prince PRIDE, and he is followed by his brothers, Pompous and Know-All. Prince Pride is truly deadly, and his brothers are close upon him in villany. Tread thee these waters with care, Sir Knight!"
Prince Pride rode up near them, and halted his horse. He looked upon the Ladies with much approval of their beauty, but when his eyes turned to Pilgrim, he frowned, looking him up and down.
"What have we here?" he sneered. "Methinks it might be a Knight, for it wears armour of passing fairness, but I see no chain, belt nor spurs! It could be a Squire, but I see none of the red belt either, and I see none of the ... lesser ... Peerages nor Apprenticeships upon it either!"
"I am but a Traveler upon the roads of this land, Sir Prince, and seek no quarrel nor grief from any." replied Pilgrim, mildly.
The Prince snorted in disbelief, and nudged his brothers with his elbow. "It speaks! 'Tis truly amazing! And it has the effrontery to travel with two such beauties as these, when -I- am here to protect them from the dangers of this dread Forest of Despair! Therefore, let us see if it can -use- those arms it bears against me, the best of Knights and the best of Princes!"
And forthwith he couched his lance and charged.
Pilgrim was not prepared to receive the charge, but threw up his shield in time to block the thunderous blow that rang upon him. He spurred his horse, and turned, and couched his lance, and charged Prince Pride at full gallop.
Prince Pride's lance struck fairly upon Pilgrim's shield, but the blow was turned. Pilgrim's lance struck firmly to the center of Pride's shield, and unhorsed him in a trice, leaving him rolling upon the dust of the roadway.
Pilgrim reined in his horse, and rode to where Pride had taken his fall, and spake.
"Needest thou my assistance, Sir Knight?"
"That I do -not!- Thou struck a lucky blow, and I only counted it by virtue of thy youth and ignorance!" It was difficult to hear Pride, for his face was in the dust.
Prudence and Faith hid their faces behind their fans, their shoulders shaking with laughter.
"However," Pride continued, sitting up, "Lucky blow or not, thou would'st do well to swear fealty to me, and become my Squire, for I know all the tricks and secrets of combat, and am one of the Good Old Boys of the Club of Knighthood, and thus can advance thee hastily to the belt and chain!"
And those that followed wearing bright red belts nodded vigorously.
Then his brother Pompous spoke, and said, "But what of the belt and chain? 'Tis naught for true glory, for it merely consists of swinging a stick with great force, and having the thickest skin, and being voted Least Likely To Die upon the field! Come, and apprentice to me, and gain to the Laurel, which is the best of all Peerages, being given for the gentle arts such as music, and the proper wearing of clothing and fine hats!"
And the wearers of green belts all shouted "Yea! Verily! Yea!" (0)
Know-All interrupted with a sneer, and said, "How canst thou call such a milksop thing as the Laurel the best of Peerages? Out upon it! Thou speakest truly about the belt and chain, for it is merely based upon physical strength, and takes no intelligence to gain, but the Pelican! There is the True Glory, for it must be earned thru work that none sees, and thou must know the Art of Politics, and how to do -everything-, and tell all thou see'st how they are wrong in what they do! The Laurel is naught but hot air, and wind!"
And those of the yellow belts looked Wise at this.
Pride leaped to his feet, his face beet-red in anger, and shouted, "How durst thou speak so of the belt and chain! I shall have thine hide for such words! Knighthood is best and most important!"
"And I give thee the lie!" screamed Know-All, "For the Pelican is the prime Peerage!"
"Thou both are full of excrement and are spouting slime, for the Laurel is the foremost Peerage!" shouted Pompous.
The lady spoke for the first time, and said, "But what of we of the Order of the Rose?"
The three men, in unison, shouted, "Be thou still! Thou art no -real- Peers, but merely consorts! We will pretend to listen to thee only as long as thou sittest a throne, and no longer!"
And all four forthwith fell to quarreling in the road, shouting and screaming at each other, throwing dust, and hurling imprecations.
Princess Prudence looked upon the disgusting sight, and spake, and said unto Pilgrim and Faith, "In truth, we must leave them to their amusements, for they verily have -no clue.-"
And all three travelers rode away, further into the forest.
Pilgrim rode quietly for a time, and then spoke, and said, "Ladies, I fear I must admit that my blow to Prince Pride -was- a lucky one, and his came near to unhorsing me. I am not as good as I looked to be, but simply fortunate."
Princess Faith looked at Pilgrim, and said, "Pride is indeed a great fighter, and his skills are good. Thus, he advanced himself to many great honors, but became too convinced of his own greatness. He keepeth a castle of his own now, wherein he lives in royal pomp, though he is no real King. Thine honesty and humility are good to see in a traveler."
Prudence turned, and spoke also.
"And Prince Pride ever rides before his foremost squire, who is named Fall....."
Faith smiled at that, but held her peace.
Anon, the Sun began to set, and the three friends made a camp within the Forest of Despair. Princess Faith looked about in some nervousness, and said, "We must keep good watch, for there are terrors that inhabit this forest by night, and they do prey upon travelers such as we."
Pilgrim offered to keep watch, wrapped in his cloak against the chill of the night, and the two ladies slept beside the fire.
It had come near the hours between Matins and Lauds, (1) and Pilgrim could hear rustlings and slitherings outside the circle of light from the fire, and could see eyes that would blink on and off from time to time, watching them, when he noticed a fair maiden at the edge of the firelight, shivering in the cold.
"Sir Knight, pray give me succor against the cold," she said, "For I fear I freeze this night!"
"Then approach thou our fire, and warm thyself."
The maiden came forth, and passed between Pilgrim and the firelight, and 'twas no wonder of her coldness, for her garments were thin, and the fire's light outlined a body of passing fairness. She approached Pilgrim, and stroked his chest, and said, "I pray thee, hold me to thyself to warm me, for I am cold unto death."
Pilgrim wrapped her within his cloak, and placed his arm around her, and her flesh was like unto ice, but soon it warmed, and a perfume of surpassing allurement drifted to him.
The maiden turned within his arm, and pressed her body close to him, and began to cover him with kisses, and stroking him.
"Lay with me this night! Thou hast warmed my fires, and I am filled with desire!" Her voice was low, and her eyes burned.
Pilgrim looked at her eyes, and saw the flames of Hell reflected from them!
"Get thee hence, false one!" He cast the maiden to the ground. "Get thee hence, for I know thee as LUST, that once was a dragon, and now is a fair-seeming maiden!"
Her gown had pulled up and exposed her feet, and lo, one foot was fair to behold, but the other was clawed like a dragon, and served as food for worms!
The maiden called Lust, for such she was, snarled, and turned widdershins within herself, and vanished, leaving behind a foul stink of brimstone.
Prudence sat up, and smiled at Pilgrim, and said, "Thus thou seest that Lust is truly a deadly enemy. She hath a sister, named Desire, who is a good friend to true lovers, but the champion that conquers all is Love Herself. Remain on thy guard against Lust, for a companion follows close behind her, and that companion is Death!"
The remainder of the night passed without incident, and in the morning they continued on their way.
It was not many hours later that they heard the sounds of combat; the clashing of steel, and shouting. Quickly they spurred their horses forward, and soon came to behold two knights in close battle.
One knight, with a coronet upon his helm, had beaten his opponent to the ground, and was raining blows upon him, fast and furiously, while shouting, "This for thee, that offended me! Thus I teach thee courtesy! Thus I teach thee honour!"
His opponent was shouting "I yield me! I yield me!" but the crowned knight was not hearing, or not willing to hear.
Pilgrim spurred his horse forward, with Princess Faith not far behind, shouting "Hold, sir! Hold!" but the standing knight paid no attention to their cries.
Pligrim dismounted, and interposed his shield between the fighters, but the knight of the coronet turned, and began to rain blows upon Pilgrim, who had not even drawn his sword, shouting "Thou foul thing! Stand not between me and my wrath! Give way! Give way!"
Pilgrim was beaten to his knees, and he grew faint from the force of the blows, when he saw another knight, also crowned, push between and take the sword from the angry knight.
"Stay thy hand, sir! What is the meaning of this display of spleen and unchivalrousness?"
"And who art thou to ask me such a thing? I am the most puissant Prince ANGER, and I strike who I will!" The angry knight raised his visor, showing a face black with temper.
"I am the Prince Justice, and I bid thee stay thy hand! Why dost thou strike this knight, that only sought to help?" He indicated Pilgrim with his hand, speaking sofly and gently.
The quiet speech seemed to have an effect on Prince Anger, (2) for he dropped the point of his sword to the earth, and said, "He came between me and this catiff that I chose to punish."
"And why wert thou doing so, when he had yielded?" Pilgrim asked.
"He would not count his blows fairly! I struck him, and he refused to acknowledge he had been struck! Is that not reason enough?"
"Perhaps," said Prince Justice, "It would be better had thou refused to fight him further. No matter, the fight is stopped, and thine anger turned away, and we shall move on."
Prince Justice and Pilgrim remounted their horses, and the two sisters welcomed their brother. The four began to ride away, when the fallen knight, whose name was Craven, stood, and said to Anger, "Thy blow was light, and could not even have felled a gnat!"
Prince Anger gave a roar, and the combat began again.
Pilgrim looked back, and made as to turn, but Prince Justice reached, and took his bridle, and said, "Leave them. Neither of them can learn from their own errors, but must continue in their unhappy course."
"But how may I handle such a thing, should mine opponent refuse to count my blows?" asked Pilgrim.
"Each fighter must judge that for themselves," said Justice, "For 'tis the slain only that shall say they are slain ... but I can relate a tale of this, if thou so wish."
"An it help me on my quest, it would gladden my heart." answered Pilgrim, eagerly.
Justice smiled warmly, and began to speak, as they rode away.
"'Tis said, that in one of our fair Kingdoms, two most puissant knights were in combat for the highest service one may perform, that of wearing their Kingdom's Crown. They were of opposing factions, and the fight was close, and bitter, but, finally, one scored a clean blow upon his opponent's helm. The fighter that had been struck seemed not to feel it, and kept on fighting. The knight that had struck backed away, looked a bit quizzical, and then gave a loud cry of anguish, as if he had been wounded unto death, and fell upon the field."
"And what happened then? Why did he fall if he had not been struck?" asked Pilgrim.
"That is what the Marshalls asked of him, and it is said he smiled a most beatific smile, and in a voice loud enough to carry to the ends of the Known Worlde, said 'In truth, my blow must have killed someone, and if it was not him, then it must have been me!' Perhaps this may not have been the -best- way to bring home the point, and it cost the knight the combat and the Crown ... for in saying thus he yielded the combat ... but it was, in truth, most wonderful, and it added much to the knight's honor and fame."
Pilgrim did not answer for a while, and then spake to Justice, and said, "It seemeth to me that to simply walk from the combat, and refuse to meet the person again, would be the best way."
Prudence smiled, and said, "That is indeed better, but there could be a third alternative. A fighter's lady may halt the combat, and remove her favor until her fighter finds his honor again. And no person without a favor may fight in Crown Lists ... and that could even be a harder thing to bear."
"Were it to happen to me, it would shame me to the depths of my being." said Pilgrim, softly.
Soon, they came to the edge of the Forest of Despair, and rode out upon the High Road again.

---

Go back to the home page! Go to Chapter 3!
---